Best Shop in Town
Why Are We The Most Trusted Pawnshop in CRAVEN County?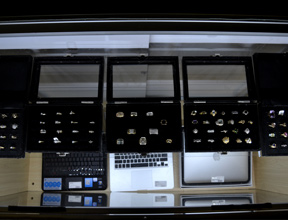 Our staff is professional, knowledgeable, and friendly. We appreciate your business
We are people who take pride in what we do
We pay the most!!
Your transactions are completely confidential
We Hold Your Items As Long As You Need, at least 90 days Guaranteed. You can extend the loan past 90 days with an extension payment as many times as you like.
Your merchandise is always safe and secure
Our store is spacious, organized, and clean
You can expect the same outstanding service whether you pawn, buy, or sell.
We are an Accredited Business Member of the Better Business Bureau with an A rating
Our Customer Reviews
Our customers have had some positive feedback for us, which we appreciate and want to share with you.
"I can tell you I was not disappointed in the slightest. They even stayed open a little later to help me. I researched that days gold rate online so I know they gave me a very competitive price. Rich was extremely helpful in answering all my questions."
"This is the best shop in town. (I have been to them all) The owner has always worked with me, and is always very friendly. I take all my business to them when I'm in need, and they are always fair with there price that they will let me borrow. I give them 2 thumbs up! Keep up the good work."
"The owner and the employees are very polite and fair. I have never been given a price on anything that I thought was wrong. Also when I come to retrieve my things he works with me, which is great. By far the only place I will do business!"